Digital Short; Completed
Finalist, 39th Annual WorldFest-Houston International Film Festival

A directionless woman finds a mysterious bottle washed up on the shore. "Drink me," it beckons. But she throws the bottle back into the ocean. As time passes, she grows more and more obsessed with its contents, and ultimately returns to the beach in a desperate search — one that leads her to a surprising revelation.

When I decided to make a short film, I intended to test the boundaries of ultra low-budget digital filmmaking. My mantra: keep it simple — and cheap. I wanted to see how good a product I could produce with minimal locations, gear, and crew. So, armed with a Canon GL-1, actors, and on two occasions a soundman, I directed, shot and edited the film on nights and weekends. A month later I was burning the final cut of The Bottle onto DVD. The ultimate cost? $45 — mostly to feed cast and crew. While I'm no cinematographer, I think it's a good example of what can be done with with a DV camera and a little imagination. — Todd Ludy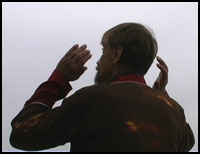 Click image to watch The Bottle.
(10:39, 44.1 MB)